This post has been a very long time coming but has given me the opportunity to use these products for over a month before sharing my thoughts. It's always hard to review skincare because you need the time to get used to different formulas before you can give an informed opinion but I feel I've had the perfect amount of time with these products to be able to do so.
I wasn't particularly familiar with
Karin Herzog
before receiving these samples but after doing my research I learned KH is a Swiss brand created by Dr Paul Herzog with the encouragement of his wife and the brand's namesake, Karin. The products focus on using active oxygen for cosmetic application, which you can read more about
here
.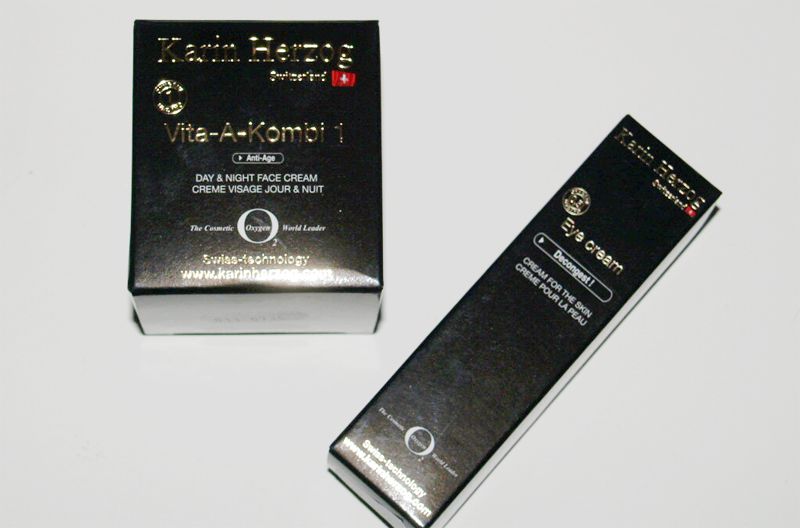 I was immediately impressed with the items I was sent because of the sleek, sophisticated packaging, they look luxurious from the outset which is a quality I would expect being that the products are on the higher end of the price scale.
Day & Night Face Cream:
Despite this face cream being designed for day and night I have only been using it in the evenings. It's a lovely, creamy consistency but slightly too heavy for me to personally have on all day under makeup. £57 might seem a little steep but it is a big old tub and you only need roughly a pea-sized amount each time, it also comes with a handy scoop so you don't make a mess. I wasn't sure I liked the scent at first, which isn't overpowering but is slightly more mature than I'm used to, however it grew on me pretty fast and I actually really like it now. I've used this face cream every day for nearly a month and I've found it's been very good to my skin, particularly with the change in weather. I've avoided the dry skin sneak attack that usually happens when the temperature drops and actually reduced the amount of breakouts.
Eye cream:
Since my last eye cream review I had been converted to this additional step in my beauty regime. I was eager to try out a different eye cream and see if it brought about the same results. This is a much lighter consistency from the face cream but once again, you only need a really tiny amount. I didn't see a huge difference in my dark circles which is an element it aims to reduce, however given that I'd been working 14 hour days with minimal sleep most of this time, I'm just happy they didn't get any worse. On the whole however the skin around my eyes looks brighter and hydrated so I'm definitely impressed. I'm not sure I'd be able to part with £42 however, but ask me again in another couple of months of using this!
Overall I'm really pleased with these Karin Herzog products and would definitely consider trying other products by the brand on the basis of the two I've been using. I'm so glad these are lasting a long time, I'm always preaching to others the importance of looking after your skin but I don't practice what I preach nearly enough and it makes a nice change to treat my skin with such luxurious products.