My Halloween tutorials are getting closer and closer together, I know. I'm totally over excited by this time of year and have too much free time so that's what you get! It's another gorey one from me today, I had such high hopes for this look but it didn't exactly turn out how I wanted it to. However it's still a really fun idea and something sure to impress your mates.
As you can tell from the title I was going for a steampunk cyborg effect but didn't really nail the theme, however there's so much scope for how you can do a look like this by combining makeup techniques and found objects. Nuts and bolts, wires and clock parts are all ideal.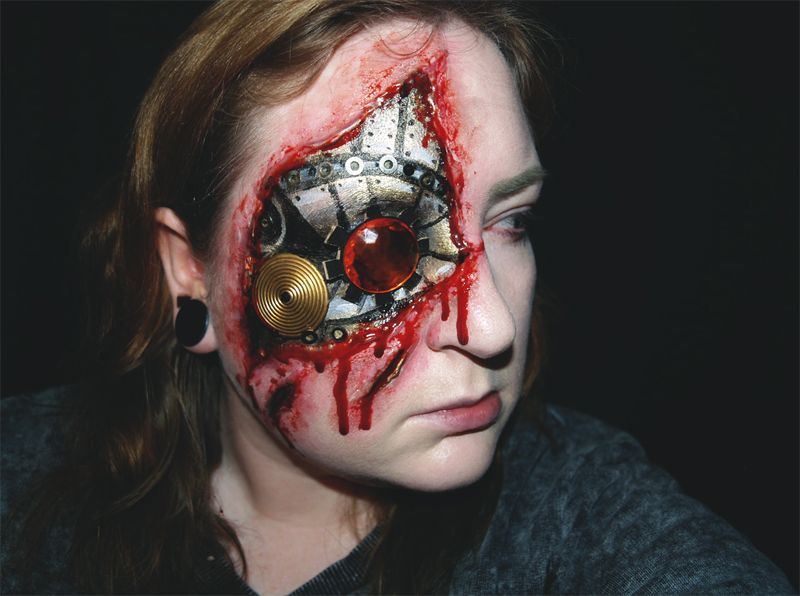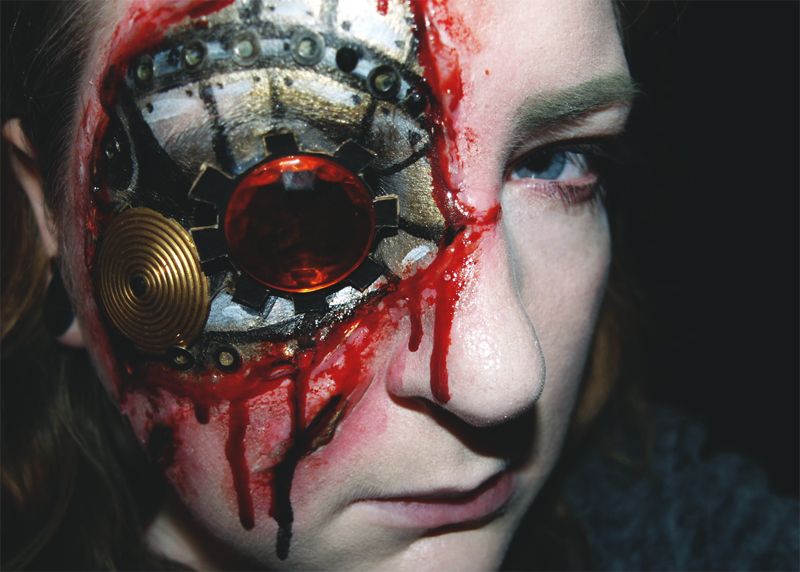 - I started out by doing my makeup as usual then marked out where I wanted the wound with greasepaint on a thin brush.
- Using a 2 part skin silicone I built up the "ripped skin" edge but applying it with a metal spatula and blending the edges with a cotton bud dipped in water.
- Once this had set I used more greasepaint to colour it and took this around the surrounding skin to give a raw look.
- I painted the inside of the wound a base coat of silver then dry brushed some gold over the top roughly. I added some ageing to the "metal" by shading around my, under my cheekbone and by my nose with a black powder eyeshadow.
- Then I could start the line work which I did with a black water-based paint. You can add whatever details you like be it just sheet metal nailed together or mechanical parts. It's a good idea to work with the natural structure of the face though. Now that all components were mapped out I could add some highlights with a lighter tone of paint and small details such as dots.
- Using liquid latex I stick on the metal disc which actually used to be part of an earring, I also dabbed some latex round the edge for extra support and left that to dry. Once it had I could disguise the latex edge with black paint. I also used the latex to stick on the metal washers and black diamantes.
- I added runny blood all around the inside edge of the wound and patted it out in places so it didn't look too neat. I used more in some areas so it would drip naturally down my face.
- Finally I could add the eye piece which was a big, plastic gem stuck on a piece of cardboard that I had cut in the shape of a cog. I stuck this down with more silicone but you have to be really careful when using this around your eye and I made sure to only apply at the very top and bottom. It would probably be best to actually cover your eye with a cotton bad first, glueing down the edges with latex so that you could stick the eye piece to that instead of your skin and not risk getting it in your eyes.
- After this I added a couple of extra dots and I was finished!
What I used:
- Kryolan Supracolour greasepaints
- Mouldlife Sculpt Gel (a more affordable alternative is 3rd Degree)
- MAC pigment 'Platinum' with Illamasqua Sealing Gel
- Illamasqua 'Solstice' Liquid Metal
- MAC 'Carbon' eyeshadow
- Kryolan Aquacolour paints
- Kryolan Liquid Latex
- Diamantes (Ebay)
- Maekup 'Clotting Blood'
I also filmed this and popped it up on my YouTube channel which might be easier to follow. Give it a watch and a like if you enjoy it. I still have a lot more looks to come so I hope you're all enjoying them!