I've been wanting to recreate some popular movie characters and finally settled our possessed friend in The Exorcist, a classic. To give the makeup a little more scope I drew my inspiration from both the original film and Exorcist: The Beginning.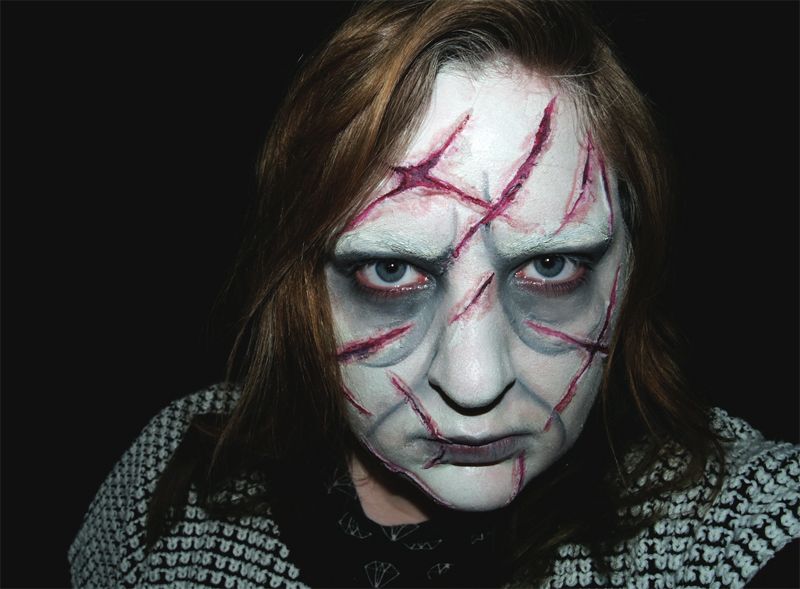 This may look complicated but is actually a really simple one and it didn't requite a whole load of different products.
- I began by pasting my brows down with a glue stick then mixed up some silicone and applied the first half of the wounds with a metal spatula. I only did half of them at first because I didn't want it to cure before I had time to get them perfect. I made these by applying a line of silicone first then using the thin edge of the spatula I drew the gash down the middle. Then I could smooth out the edges and add a little texture using a stipple sponge. Once I'd got that far I did exactly the same for the rest of the wounds. Then just before the silicone had set I used a cotton bud dipped in 99% alcohol to smooth down the edges a little more.
- I did the wounds first because the silicone sticks better to bare skin, then I applied my base over the top of everything. For this I mixed some of my white foundation by Illamasqua with a little light green greasepaint and applied with a stippling brush. The brows always need a little extra.
- Using a light grey I began shading around my eyes, the hollows of my cheeks and my temples, I also added some to my lips and then took a slightly darker shade in for more intensity.
- Next I used alcohol paints to colour the wounds as they work best on silicone, however they've very expensive so greasepaints would be a good alternative. I used a deep red inside the cuts then a very diluted shade around the edges. I also added some black to any areas I wanted more depth. If you wanted to dilute your greasepaints just simply scrape a little out and mix it with either alcohol or moisturiser to the transparency required.
- Continuing with the alcohol paints I used the black to outline the brow, eye bag and laughter line details, then shaded within these with a dark grey greasepaint.
- Lastly I used a red greasepaint under my eyes and added a bit to my lips with a little more grey.
WHAT I USED:
- Pritt Stick glue
- Mouldlife Sculpt Gel
- Illamasqua Rich Liquid foundation
- Kryolan Supracolour greasepaints
- PPI Illustrator FX palette
This is definitely a tutorial that will be easiest understood by watching the video below, but if you have any questions about how to achieve it just give me a shout. I hope you like it!