It's officially October which means I can start my Halloween makeup posts! Halloween is always my favourite time of year and I spend months planning what my own makeup and costume will be. This year I am working again doing some gorey makeup for a dance troupe so I'm not sure I'll get to go out, however I've been having fun coming up with some fun makeups to share with you guys nonetheless.
I thought I'd start with a good old sugar skull, always a popular one at Halloween. I opted for a colourful, glittery option which I've dubbed my 'disco skull'.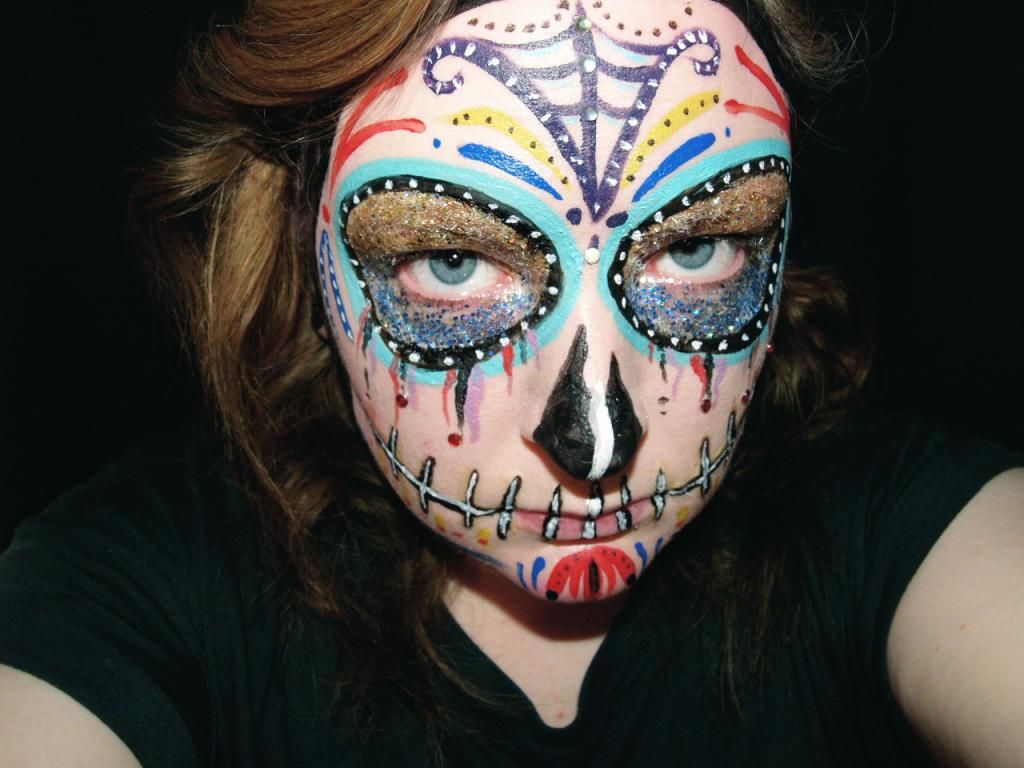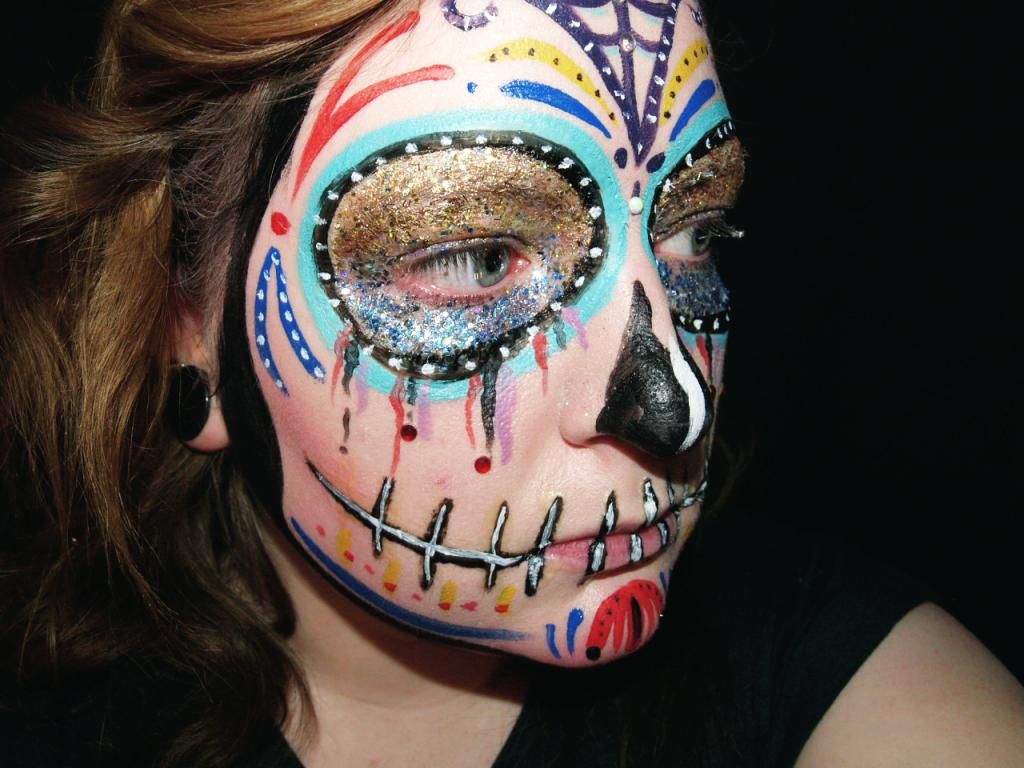 It's a shame because the photos really don't do the textures justice but I'll run through what I did step by step.
1
The black mouth lines and rings around my eyes were actually 3d, in person it's a great effect and brings something different to the traditional sugar skull makeup. I did this by painting on layers of liquid latex in the shapes desired, letting each layer dry before applying the next. I used about 8 layers total so the raised elements were defined enough. It's such a shame this hasn't shown up in these images.
2
Next I applied my base, instead of going for a solid white which can be a pain to work with, I tend to go with the lightest shade of foundation. If that needs to be paler I then powder with a white pressed powder but did not do that for this.
3
I used a pink eyeshadow for the shading which I chose because it's easiest to blend and leaves nice soft edges.
4
The other area with some nice texture is the glittery eyes, I actually layered 7 different glitters in varying colours and sizes but again this is rather lost on camera. I simply used vaseline to stick the glitter down but if I was wearing this makeup out all night I would opt for a mixing medium or even glue. You have to be very careful to use skin approved glitter because if any works its way into your eyes it can be potentially very damaging. The worst part about using the glitter is the removal so make sure it's worth the effort!
5
I painted the latex areas with black greasepaint as water-based paints have a hard time sticking to rubber however once the grease was applied I was able to add the white lines with regular water-based paints. (I'll go into how I choose what paints to use at the end of the post.)
6
Next I added in all the other details using water-based paints as well, changing up the colours to keep it as bright and fun as possible. I also took the paints down onto my neck and chest, if I was wearing this makeup out I'd be inclined to paint all visable skin.
7
I finished off the look with a few diamantes which I applied using latex but eyelash glue or any other makeup adhesives will work.
Choosing the paints:
for a makeup look like this on myself or on models for still images I will always use what works best for the desired effect, however if your makeup has to go on film or is for a client who will be wearing it for an extended period of time there are a few factors to take into consideration.
- If they are going to be out dancing, or running about, they are going to sweat. Which rules out water-based paints, they'll just end up running. The same goes for if they get wet in any other way. You're better off using greasepaints which will just start to shine as your skin heats rather than run. You can set them with translucent powder if this happens.
- If the makeup is going to get touched but not wet, you might want to choose water-based paints because grease will smudge as it never properly sets on your skin the way regular paints will. There are also various fixing sprays you could use to prolong your makeup, most decent brands sell one.
- This last point doesn't refer to paints but might affect whether you use latex near your mouth. Latex makes the skin tighter but doesn't have as much stretch in it as you might think. If you do a relatively delicate application near the mouth like I have, the edges will begin to peel as you talk or eat/drink. If you want to add a 3d element using latex, wax or skin-silicone it might be better to keep it to the parts of the face that are less expressive.
What I used:
- Kryolan liquid latex
- Illamasqua Rich Liquid foundation in 115
- Pink eyeshadow (misc brand)
- Kryolan Supracolours (greasepaint)
- Kryolan Aquacolours (water-based)
- Cosmetic glitter (misc brand)
- Diamantes (Ebay)
Sugar skulls are always a good one to choose because you can literally do anything, any shapes, styles, colours you want. You can do as little or as much as you want and there's also a lot of scope as far as costume ideas. It's also a design that has been done so many times that a simple search on Pinterest will bring you hundreds of ideas to use as inspiration.
Let me know what you think of my own take on the sugar skull and I look forward to bringing you my next halloween makeup idea in a few days. You can also check out the tutorial below on YouTube!