I've really been getting back into pigment eyeshadows after the recent addition of the Maybelline Colour Tattoo pigments to my life so I jumped at the chance to try a few by the brand
Madison Street Beauty
.
MSB is an American brand I'd seen mentioned on Twitter a few times but not heard much about aside from that. They're currently trading through Etsy while their site is redesigned and they have over 300 items in the store, a big portion of which are their gorgeous pigments in every shade you could imagine. These are 100% natural, mineral products which I know will be a big plus for some of you guys.
Top row:
Black Goji Berry*
// Deep Mauve* //
Cranberry*
Bottom row:
Black Cherry*
//
Rum Raisin*
//
Posie*
They were kind enough to send me six shades and let me pick the colours myself so I decided to step out of my comfort zone and choose some that I've never really experimented with much before. I went for a mixture of berry shades and a couple of neutrals that would compliment them, I was so excited for them to arrive so I could have a play.
As you can see they came in these simple little pots with the shaker style lid which I always prefer with pigments, otherwise I'm guaranteed to make a mess if not accidentally knock a pot over entirely. I've done it before and I'll do it again so I'm happy to avoid it.
All of the colours are nice and strong and I got a mixture of matte and shimmer shades so I can use them in my kit also and use them in a range of different looks alone or together.
On first impressions I noted how strong the shades were both when swatched with my finger and applied with a brush. I find some pigments only go on well with dense brushes but these blended onto the skin nicely with lighter, fluffy brushes too.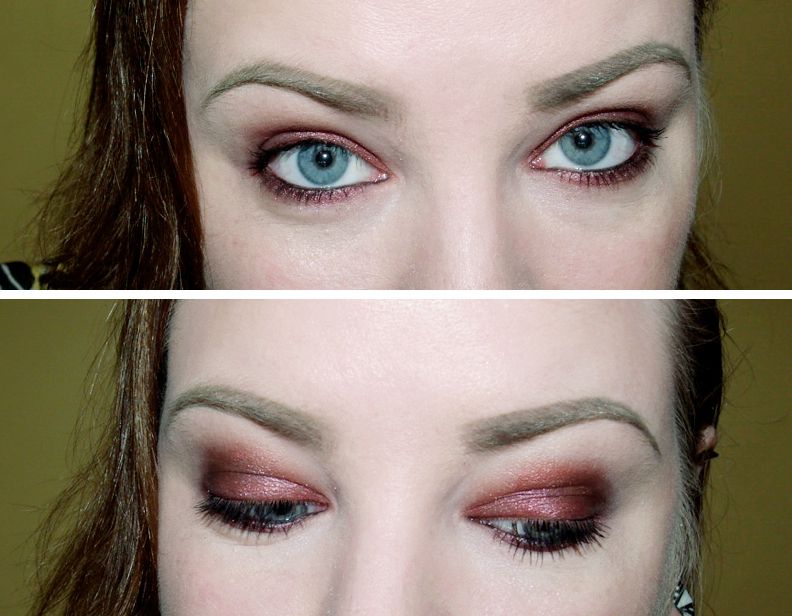 I used four of the six shades to create this look which I absolutely love, I knew I'd love the colours but am surprised how complimentary they are to my pale skin, I've always shied away from reds for fear of looking ill or worse. The shades I used were Cranberry all over the lid and blended out to the shape I wanted, Black Cherry in the outer corners blended into the crease, a little Black Goji Berry also taken through this area and Posie in the inner corner and to soften the edges. I also used a combination of the first three under the bottom lash line.
There's just the right amount of shimmer that it's still something I would wear for an evening look, as I tend to stick to matte eyeshadows in general and although I've lined my eyes with black liner it looked just as nice without. Also, I'm usually a slave to black liner on my lids so it's lovely to have colour strong enough to work without that.
It was nice to see all the shades applying equally well and also blending perfectly with each other, I'm also looking forward to trying some more subtle looks which you'll no doubt spot on the blog over the next few months.
So now for the nitty gritty, these 1g pots (which as pigment will last a long time) usually retail for just $4.99 which works out to be about £3 so definitely an affordable brand, however they currently have a 60% off sale running which reduces the price to just £1.21. Absolutely crazy. The shipping to the UK is £7.26 and appears to stay that price no matter how much you order but considering the ridiculously low price of the product and the fact they're coming from America you can't really go wrong. Do check their shipping dates before ordering though if you need them in a hurry.
Feel free to let me know what you think of the shades I chose and the look I created with them, also what colours you'll be going for if you place an order. I'm on a little spending bad so can live vicariously through you guys!