A while ago I reviewed some makeup by the brand
Cosmetics a la Carte
and a few weeks ago they were lovely enough to send me some more bits to try out.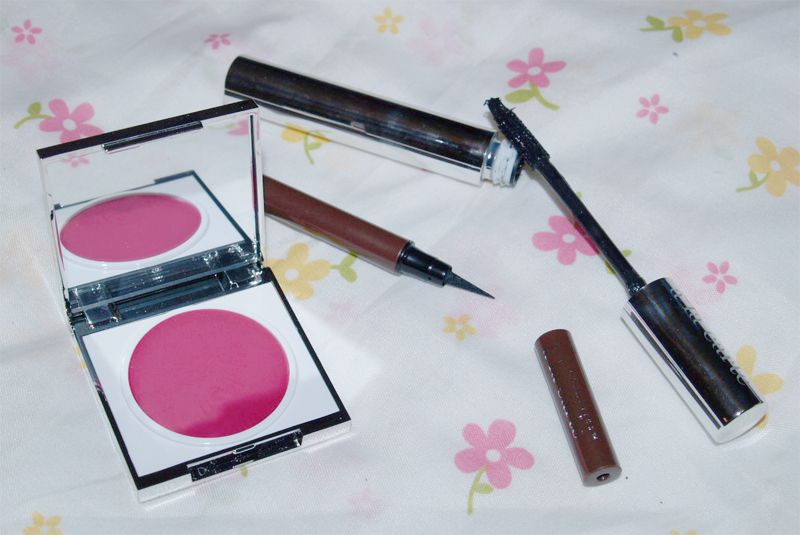 One of the lovely things about receiving products from CALC is the great packaging, the exterior boxes are very modern and the hard product packaging itself is very luxurious which in my experience is very suited to the quality of the products.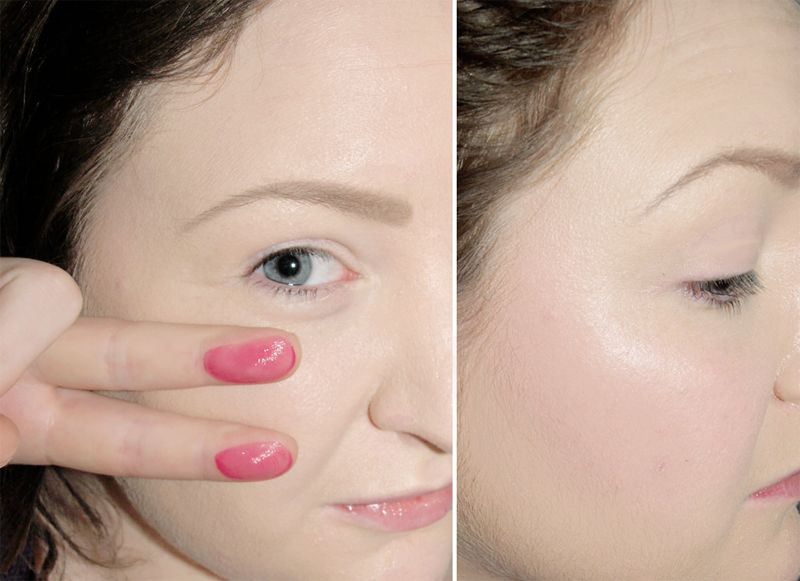 First up is the gorgeous cream blusher in the shade Raspberry which is in a vibrant magenta shade as you can see. I am a huge fan of cream blushers, favouring them over powders on most occasions so I'm always excited to try a new one. The colour is a little scary in the pan but as you can see from the swatches on my finger tips it comes out really sheer which means it blends well into the skin but is also very buildable. That's the main quality I look for with cream blushers as I always like to start with less and work up to the intensity required.
From the second image you can see I don't like my blusher too bright. I'm very pale so a heavy blush always gives the essence of "clown" on me.
My favourite of the three products has to be the brow ink in Taupe. I absolutely adore this and am so lucky I was sent one in my colour, I would have been pretty bummed to find such an amazing product but not be able to use it on myself. I've used the CALC product on the left and done my brow as normal on the right.
I am brow obsessed, if I had to leave the house with only one item of makeup on my face it would always be my brows and I always strive to find great new brow products. I've always used powder with an angled brush for my brows which works very well but using this felt tip style pen is so much more precise and quicker. It glides on effortlessly and I don't need to define the edges with a concealer, it's also semi-permanent so it doesn't wear off throughout the day and I haven't needed to reapply, it is also smudge proof.
Here I have applied it as a solid for a very strong effect but it can also be used to look much more natural by drawing on in small strokes, this is an especially good technique for the inner edge which you wouldn't want to be to blocky. I've also found this technique works well combined with a soft application of brow powder over the top.
Lastly is the mascara which I didn't take a photo of because it creates the same results as many of my others, however I do reaaaally like the wand which you can see above. It's nice and thin but also stiff so it gets right into the root of my lashes and also is a very good size for the bottom lashes. The only issue I've found with it so far is that it does pick up a bit too much product which needs to be cleaned off each time before using or you get a lot of clumps. Saying that, I've found this to be the case with quite a few mascaras in the past and is something that stops happening after you've used it a few times so I might update you on this again in the future. It is waterproof so doesn't smudge throughout the day, it also doesn't flake over time which is always a big plus with mascaras.
Once again I've been super impressed by Cosmetics a la Carte and not only excited to have these new additions to my collection but I also continue to proudly use the products I was previously sent, especially on set. (obviously I will not use the mascara on anyone other than me now I've contaminated the tube.)
Price wise, CALC makeup is on the higher end of the scale, but I'd definitely recommend checking them out if you're looking for long-lasting quality in your makeup.