This week I am featuring another good friend of mine and fantastic makeup artist. I met Michelle on an independant film called Colin about six years ago now, it was my first ever job and myself and two friends were thrown in at the deep end. After this I worked with Michelle a lot, we did two more films together and for a while I would assist Michelle on photoshoots as well. Michelle is a London based mua but travels internationally for her work, she has been published countless times and is one of the busiest people I know.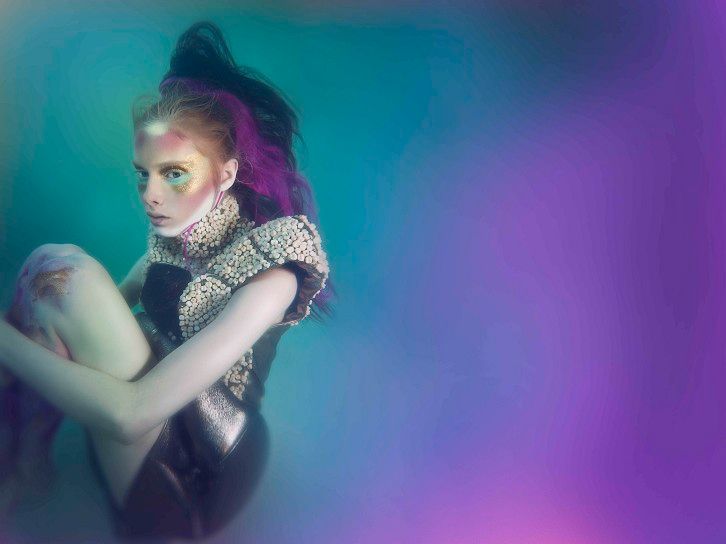 When did you realise you wanted to become a makeup artist?
I realised from a young age that I enjoyed makeup, my best friend at high school Lilith and I used to spend all our pocket money on makeup and little stars, crazy glitters and anything we could stick to our faces. (haha nothing has changed) As I matured I became more obsessed with MAC and used to make my parents buy me only MAC products on my birthday. (spoilt) When I left school I trained as a beauty therapist, decided I hated touching hairy backs and then realised that it was my calling to do makeup, I think it was always written in the little glittery stars.

Where did you train and did you enjoy it?
I trained at Delamar Academy and I specialized in FX makeup, yes I enjoyed it immensely, its amazing to be surrounded by lots of people who are as passionate about makeup as you are. I never thought I would go on to teach but its just as rewarding, I often think back to when I first started, everything is new and there are so many possibilities.
Ha ... Fashion/Film/Music are harsh industries, it's not easy, but if you really want this you will make it work. I networked my ASS off, did a lot of assisting in film, worked on indie and B movies here in the UK, and did many TFP shoots. I'm a proactive person, if I don't have any work booked I shall make sure I'm shooting or doing something, and all this lead me to places I could never imagine, I am by no means anywhere near where I want to be but I am blessed my hard work has paid off. I have traveled the world doing makeup. One month I could be Keying Shows at London, NY or Paris fashion week and then the next month I'm stepping on set of an indie movie creating some crazy zombies. Variety, they were not wrong when they said it was the spice of life.

What is your favourite style of makeup to do?
I like conceptual makeup, love playing with texture and paint, which I think comes from my SFX background. However there is also something about a perfect red lip and dewy skin, heck I just love makeup in general, can I say all styles or is that cheating?
I'm not to fond of bridal, I have only done two weddings in my life, one was a celeb wedding, the other for a dear friend.


What are your future goals in your career?
My future goal is to keep reaching for the top, I wont stop until Pat Mcgrath has retired and I have taken over all her shows, hehe.



What is your top makeup tip?
My top tip is make sure you always start with amazing skincare, that is the key to every perfect makeup application, do not skip this step.
I get asked this question over and over every fashion week, I'm not excited about any trend, I'm always too busy thinking about making my own...but I am loving an ombre lip.


What are your favourite high end and budget brands?
I am in love with Make Up Forever for foundation, OCC lip tars, Shu Uemura Skin Care, Bobbi Brown for their wonderful artist pallets and MAC pro products for body paint and pigments.
The only real budget products I use in my kit are Maybelline mascara and Boots face wipes haha.
You can also find Michelle in the following places: